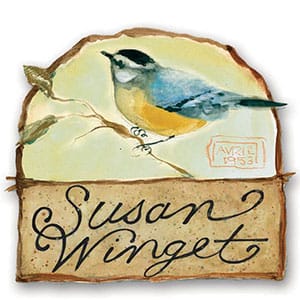 With a signature style recognized for its warmth and accessibility, Susan Winget's art exudes her passion for life.  Surrounded by horses, cows and wildlife on her 80-acre farm in North Carolina, Susan's home provides constant inspiration for her numerous collections.
While Susan is enormously popular in the US, her success is proven worldwide.  Her hand is remarkably versatile, with an aesthetically pleasing and accessible style.
Susan began licensing her artwork in 1987 with Lang Graphics.  Lang has produced thousands of cards and calendars with Susan's work and she remains one of their top-selling artists.  Her current calendar business involves a dozen different themed calendars per year exhibiting her vast repertoire of styles.
In addition to Lang's signature calendar sand boxed holiday cards many other industry-leading manufacturers license Susan's work, offering a vast array of successful stationery, gift and home products to a nationwide base of independent and specialty retailers.  In addition, Susan has been involved in multiple private label and exclusive programs with such retail giants as Cracker Barrel, Jo-Ann's and others.  Susan has also appeared on several highly successful QVC shows based around her Christmas art.
Susan's renowned artwork has been seen at such major national venues as the White House, Colonial Williamsburg and the National Trust. Susan has an evergreen ranking in License! Magazine's list of leading  art properties, ranking as high as the top five licensed artists in the country.
To learn more about Susan Winget, go to susanwinget.com or visit
Facebook:  Susan Winget – Susan Winget Art    Twitter: @susanwinget   Blog:  susanwinget.blogspot.com
Instagram: Susan_Winget     Pinterest: Susan Winget     YouTube: winget's art channel