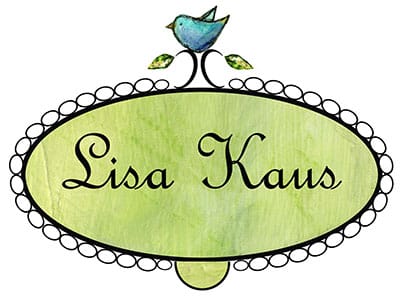 Lisa Kaus has been a mixed media artist for nearly 20 years.  She has been a self-described "paperaholic" since she was a child and it seemed only natural to pursue it in a big way.
Lisa states, "The creative process starts with the idea…then a concept emerges, which is then expressed onto canvas, wood, or paper. Bits of paper make their way onto the surface as do paint and crayon strokes.  Incorporating a variety of mediums into each piece adds a wonderful spontaneous element to my work. "
She has a special fondness for old time-worn elements with some historical purpose. Using these elements in her designs creates a special and unique interaction between vintage found objects and contemporary painting. Whimsical birds, flowers and houses are at the root of Lisa's work.
Lisa has had her own business under the name of Lisa Kaus Art Studios for the last 11 years which features fine stationery, prints and other items. Her collection is sold around the country and her artwork is held in many private collections.
Her licensing program includes home décor, stationery, garden, and dinnerware.
Lisa lives in Portland, Oregon with her husband and two sons.
To learn more Lisa Kaus, go to lisakaus.com or visit her on
Facebook: Lisa        Pinterest: Lisa Kaus     Blog http://lisakaus.blogspot.com