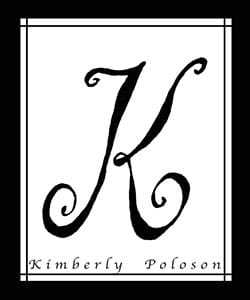 Collage artist Kimberly Poloson's creations are reminiscent of heirlooms that have gathered a bit of dust – yet have become more beautiful for surviving the test of time.  Melding the past and present, Kimberly creates a world filled with unusual textures and juxtapositions.  Drawing inspiration from poets, writers, artisans, and musicians, Kimberly's clever use of beautiful antique ephemera evokes black and white snapshots of Old World Europe, embellished by Kimberly's addition of contemporary colors.
Kimberly loves creating products for the home because she believes that one's home should nourish the soul… that one should be surrounded by objects, textures, and patterns that warm the heart.  Featured in Better Homes and Gardens and Romantic Homes, Kimberly's home and studio nourish her own soul.
Kimberly's unique creations have translated beautifully into an extensive line of published prints, tabletop accessories, wall coverings and wall decor, and ceramic dinnerware collections from leading manufacturers around the country.
Working from a wonderful, spacious studio overlooking woodlands and green pastures outside Portland, Oregon, Kimberly lives in the spirit of art reflecting life.