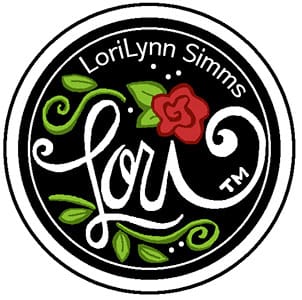 LoriLynn Simms has a high-spirited, whimsical, yet refined style.  With warm palettes and familiar home and garden oriented themes, LoriLynn describes her style as "lyrical"…her love for music, food and family is her driving creative force.
Majoring in computer graphic design and visual arts, LoriLynn has worked on a variety of design platforms. She started her creative career as a menu designer and sign painter. But her love for the garment industry was rooted as a child and her love affair with textile design is what led her on a path to art licensing.
Given her unique hand and playful design sensibility, LoriLynn has enjoyed over 10 years of success in licensing.  Her licensed art can be found on dinnerware, stationery, over-the-counter fabric, and home décor.  Her playful style and ebullient personality are a signature element in her art.
LoriLynn has called everything from big city, to barren desert and wooded countryside "home". She is a proud wife of a retired Marine and mother of three girls. Today, you can find LoriLynn residing on her ranch in the countryside of East Texas and working out of her studio in Dallas.